TEQUILA & TRADITION
We learned the great tradition of tequila making from our ancestors, who have been farming agave in Los Altos de Jalisco since the 1860s. We value what we've learned from them, but with deep understanding also comes new ideas. We take pride in combining the best traditional techniques with our own innovative methods. For those ready to enjoy the best tequila our family has ever made, start your new tequila traditions with us.

Our Tequilas
Crafted with pure, crisp rainwater and natural spring water, G4 Tequilas have an aroma and taste that brings forward pure agave flavor made in harmony with the land.










The purest expression of Blue Weber agave, our Blanco is authentic and approachable with a delicate minerality and gentle aroma derived from agave and spring water from our own farm, collected rainwater, and our Grandfather's yeast. These are the only ingredients in G4. Clear, crisp flavors and a silky texture make it a hit with tequila lovers across the board.
Aromas and Flavors: Cooked Agave, Black Pepper, Earthy, Minerality, with notes of Citrus and Flowers and all 100% deliciousness.


The first use of Wood Fermentation at El Pandillo, de Madera, is a limited edition, annual release Blanco tequila.  Lot 1 in 2022 and Lot 2 in 2023, each bottle is hand numbered.
de Madera is also the only G4 expression made with deep well water, adding even more unique depth and complex character to this tequila vs all other G4.
Bold Flavor and Aroma.  Cooked agave with cracked Black Pepper and Spices. Subtle notes of Nuttiness, Herbal, Grass and some Green Apple.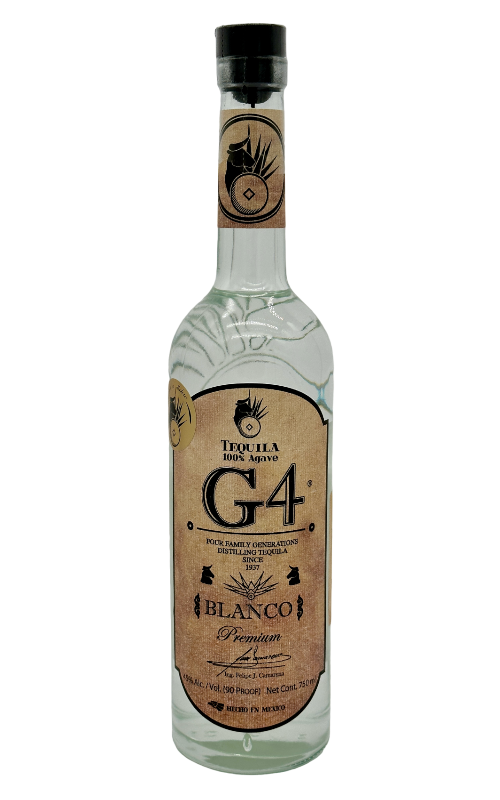 Refinement in a bottle. Aged for at least six months in very old George Dickel Tennessee whiskey barrels, our Reposado is an expression of the landscape, with flavors influenced by the floral, herbal, and citrus plantings we grow at Rancho El Pandillo.
Flavor and Aroma: Cooked Agave, Oak, Vanilla, and Semi-sweet Chocolate, with notes of Caramel, Butter, Cinnamon, and Citrus.


Special, limited Edition, highly collectable, this 6000 bottle release in custom hand-made coffin boxes, honors Dia de Los Muertos with every unique touch and brings to life a 10 year dream of Felipe in honoring the dead.
The de Madera Reposado has been aged for 7 months in the basement of El Pandillo in the traditional, G4, very old Dickel whiskey barrels, adding sweetness to the unique depth and complex character of this tequila.
Semi-sweet barrel notes.  Roasted agave with white pepper and spices. Loooong, soft, finish.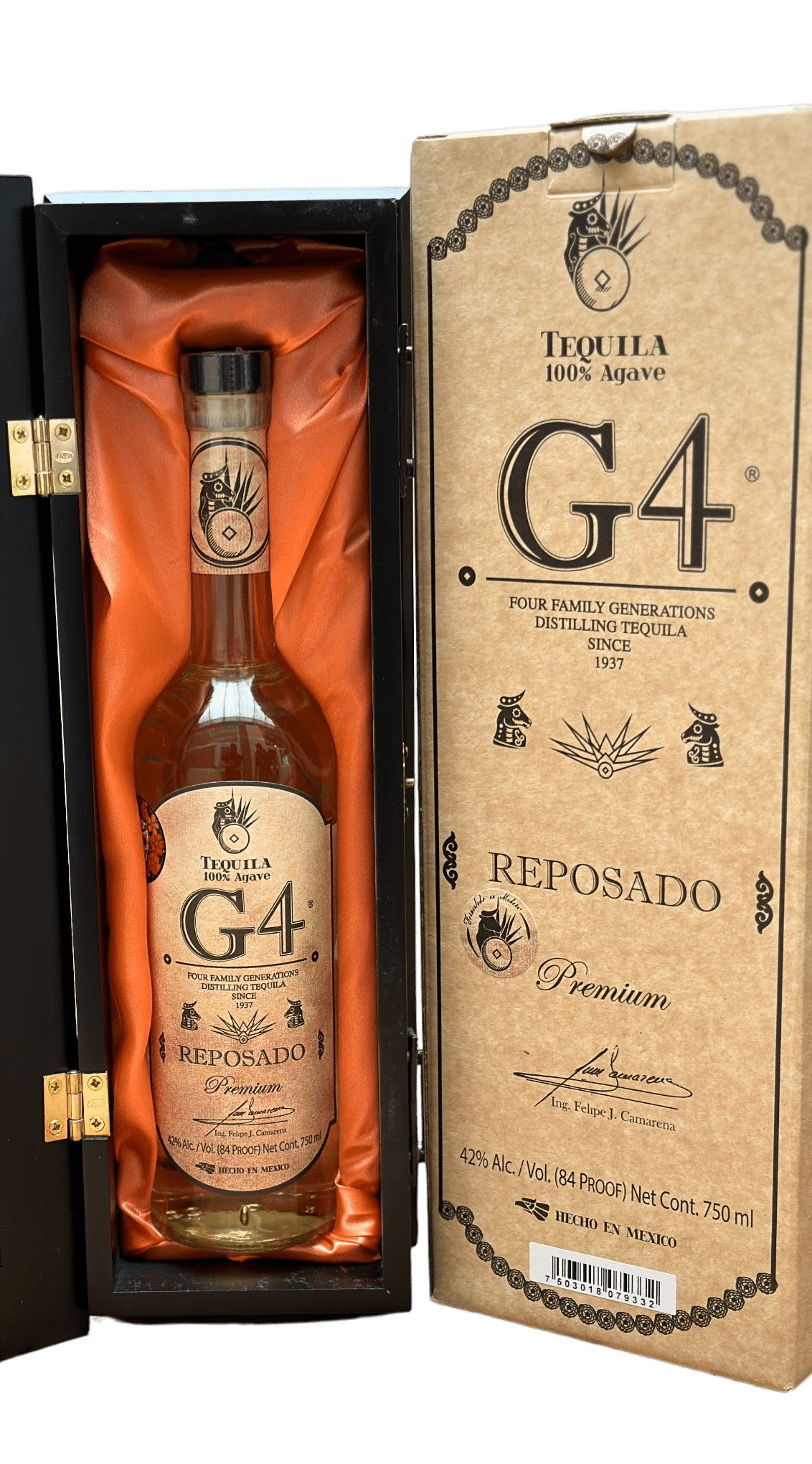 After 18 months of subtle aging, our beloved Añejo develops a character all its own, without overwhelming the delicious natural flavors of the tequila. Gentle smoky flavors and aromas that will fill your palate with joy.
Tasting Notes of Cooked Agave and Black Pepper with subtle Vanilla and Oak. Soft Florals, Citrus, Butterscotch and Cinnamon.


Aged for three years in the same very old Tennessee whiskey barrels, our golden, delicious Extra Añejo takes G4 Blanco from youthful spirit to full grown wisdom. Silky and oaky, it's a glorious kiss on the lips.
Notes and Aroma: Cooked Agave, Oak and Vanilla, with Caramel, Butterscotch, Floral, and Citrus but still G4 Tequila with even the familiar Black Pepper and Minerals.


Twice distilled in copper stills, G4 Blanco 108 is a bold, high-proof expression with complex aromas, a long finish, and perfect texture.  "108" is not "Still Strength" which is actually higher, and beyond legal limits for Tequila.
Taste and Aroma: Big Cooked Agave flavor with Black Pepper, Minerals, Cinnamon, Alcohol, and subtle Pineapple or Mint.


Aged for 5 years in very old George Dickel Tennessee oak whiskey barrels, G4 Extra Añejo is an agave-forward and extraordinarily soft with a touch of heat.
Cooked agave with subtle hints of oak and vanilla.

"Reserva Especial de Felipe Camarena"

Aged for 6 years in Felipe's favorite Dickel Tennessee whiskey barrels and bottled at Barrel Strength, 86 Proof.  This very special G4 Extra Añejo is packaged in unique, handmade, Brazilian Parotta wood boxes.  1000 numbered bottles.
Floral and fruity, with hints of spice, leather, tobacco, and citrus. Vanilla with nutmeg and pepper. A touch of bittersweetness on a very long finish.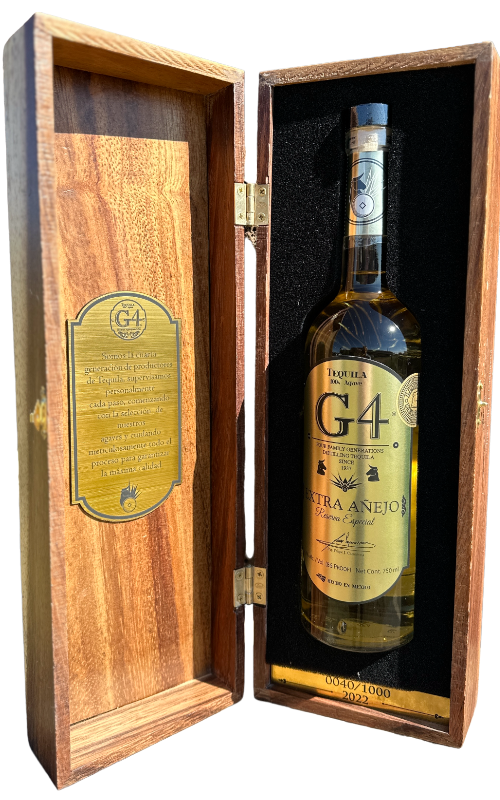 Excellence By Choice
At G4, making the world's best tequila drives everything we do. For us, the process is the product. That's why we grow our own agave, run on solar power, and use pure rainwater and local spring water to make our award-winning tequilas. From our sustainability initiatives to our distillery methods, every step matters. We cut agave, not corners. Maybe that's why our tequilas have been called the standard by which all others should be judged. Take a sip of G4 and judge for yourself.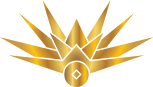 "I'm not in the business of making fancy bottles. I'm in the business of making great tequila."
Felipe Camarena
Master Distiller and Founder of El Pandillo